SPONSORED BY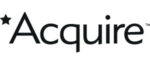 Acquire is a premium, global performance marketing agency, proud to work internationally with brands like I Saw It First, Benefit Cosmetics, Revolution Beauty & Whittard of Chelsea. We're incredibly proactive, and ensure the service we offer our clients is industry leading and second to none.
Judges will be accolading innovation in the form of a new technology, creative strategy or campaign in the performance marketing space.
Judges will be looking at ROI but also the potential for change and innovation in the long-term.
Entrants should include within the entry
• What problem has the innovation solved
• Challenges met and how they were overcome
• Smart execution and deployment of the innovation
• Results from deployment of the innovation"